Come the holidays and I organized a contest for readers, with the collaboration of the Raspberry PI and accessories shop RaspberryShop, in which contestants must propose an innovative project to develop with a Raspberry PI; the project You must be able to implement on a up to 3 months, and the prize will be a Raspberry PI B + valued at € 35,95 ceded by RaspberryShop, advice to develop it if required, and the publication of the draft drafted by the winner in this blog.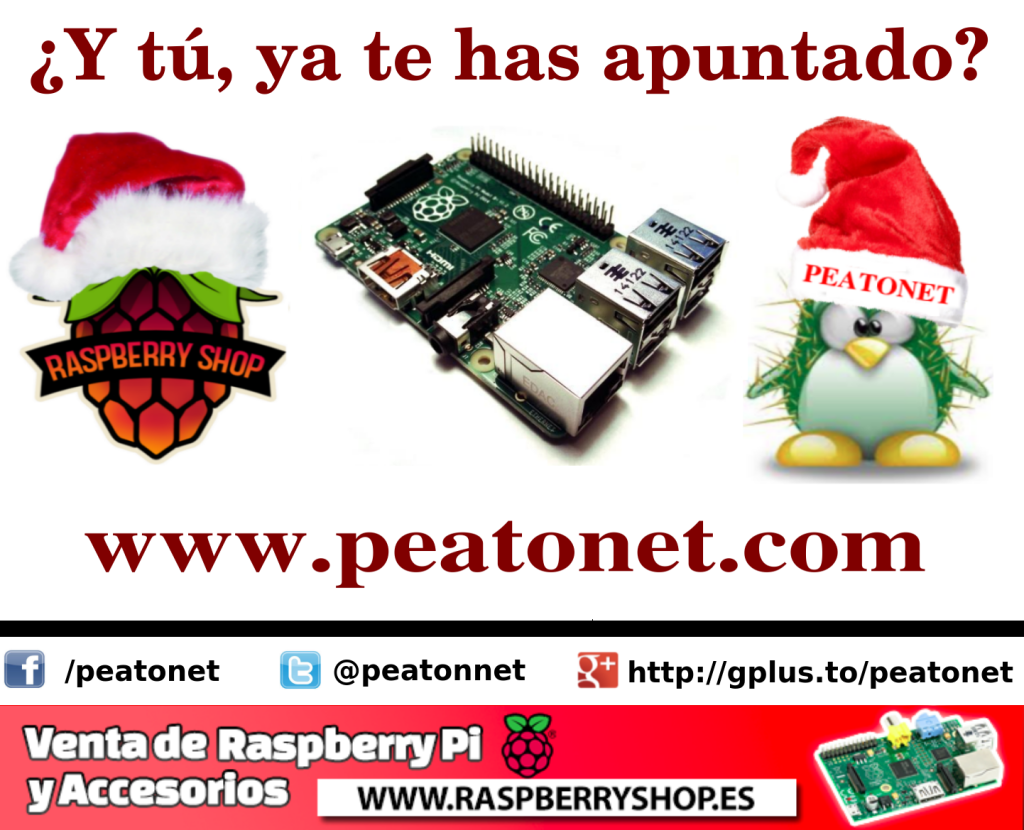 Being the first competition that I organize, on this occasion I must limit participation to residents in Spain since otherwise it could not assure Prize arrived in conditions, and in the desired time frame; but I promise to let know me well about how infrastructure and logistics international messaging to the next contest, and not to forget the readers of all America, Asia, Africa, and the rest of Europe.
To participate in the contest, You must first follow the account in Twitter and give I like it to the of Facebook of A pedestrian in the network; and secondly you must send your project proposal as detailed as possible signed with your Twitter and Facebook nicks (which will be by accepted the contest rules) to the address of mail electronic concurso@peatonet.com before the 27 of December.
Of the day 29 December to the 6 January a vote will be published on the blog type of survey, so you decide which of the three finalists announced the day 29 the award is; Once closed the voting period shipping data is asked to the winner and two finalists, and shall make deliveries to their homes with carriage paid; of the Award in the case winner, or the consolation prizes in the case of other two finalists.
Happy holidays, and happy new year!
If you like you can follow me on Twitter, Facebook, Google +, LinkedIn, or share it with the buttons under this publication, If you have any questions or suggestions please do not hesitate to comment.